Description
Erbelia Lash Tool Kit (ELT) is a revolutionary productivity tool for single lash extensions work. After completing the required training the time it takes to deliver a new set may be reduced by half. According to our own survey most lash technicians use around two hours to complete a new set. Now imagine that you do it in just one hour instead!
The kit includes one roll of custom made silicone based gel tape of medical hypoallergenic quality. This tape has the special properties required to assist in your ELT usage.
Also included in this upgraded offer: A neat box for the lash tool AND the newly developed Erbelia Lash Arc with storage box.
The ELT utilizes the fact that eyelashes in general grow in three rows on the eyelid, in brick formation. By inserting the ELT between these layers, one at a time, the individual lashes of respective layer are exposed on the working surface of the tool, allowing separation and application of extensions made simpler and much quicker. And more fun 🙂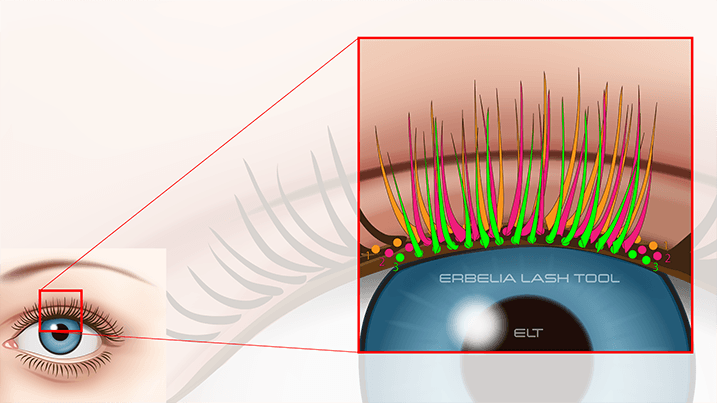 Mastering the method and achieving the time savings we advertise takes some training and patience – but soon it pays off. Doing the job in half of the regular time allows you to sell more treatments per day – increasing your business profits.
Note: We guarantee that the ELT tool and method works as such. Though it is up to the user to gather the motivation, training and skills required to master the method. No refunds provided.
Here is our instruction video (also available in Swedish, Spanish and Portuguese):
Lash technicians who are early adopters of this technique are likely to be the ones improving their business revenues the most since they will have an competitive edge over more conservative technicians who choose to keep working in the traditional way.